OUT OF LINE – Electrostorm Vol. 9 Sampler
Label : Out of Line Music
Release Date : 13. 11.2020
Genre : Dark Electro / Sampler
Rezension by Fenria
Out of Line bleiben Ihrer gewohnten Tradition Ihrer bisher veröffentlichen Electrostorm Sampler treu und vereinen erneut, Neues, bisher ungehörtes oder gar veröffentlichtes und alt bekanntes zu einem extrem spannenden Sampler der sich wie immer hören lassen kann. Diesmal dürfen sich die Fans dieser Serie besonders auf bisher nur in der Bonus Version veröffentlichte Songs von Ost+Front, Combichrist, und Hocico freuen. Aber auch Newcomer wie Yellow Lazarus und Kiberspassk dürfen sich hier dem werten Hörer präsentieren und einen kleinen Eindruck Ihres Schaffens gewähren. Neues Material liefern auf dem Sampler dann Solar Fake, Ashbury Heights sowie Dive. Blutengel präsentieren Ihre Hitsingle "Unsterblich", Too Dead to Die wiederum ihren Song "Tropical Gothic" und Rummelsnuff Ihre Hymne "Interkosmus" die somit erstmalig auf CD erscheint. Alles in Allem ein absolut gelungenes Stück CD welches mal wieder klar stellt, wie vielschichtig Dark Electro doch sein kann. Ein Muss für Jeden der diese Musik mag und für all die Jenigen, denen noch der eine oder andere Song in der eigenen Sammlung fehlt. Mit Songs von Solitary Experiments, Massive Ego, Suicide Commando, She hats Emotions und Amduscia ein mit 17 Songs vollgepacktes Stück Musik welches ab sofort überall erhältlich ist.
Out of Line stay true to your usual tradition of your previously published Electrostorm samplers and combine new, previously unheard or even published and well-known ones into an extremely exciting sampler that can be heard as always. This time the fans of this series can look forward to songs from Ost + Front, Combichrist, and Hocico, which have so far only been released in the bonus version. But newcomers like Yellow Lazarus and Kiberspassk are also allowed to present themselves to the listener here and give a small impression of your work. Solar Fake, Ashbury Heights and Dive then deliver new material on the sampler. Blutengel present their hit single "Immortal", Too Dead to Die in turn their song "Tropical Gothic" and Rummelsnuff their hymn "Interkosmus", which will appear on CD for the first time. All in all an absolutely successful piece of CD which once again makes it clear how complex Dark Electro can be. A must for everyone who likes this music and for all those who still lack one or the other song in their own collection. With songs from Solitary Experiments, Massive Ego, Suicide Commando, She hats Emotions and Amduscia, a piece of music packed with 17 songs which is now available everywhere.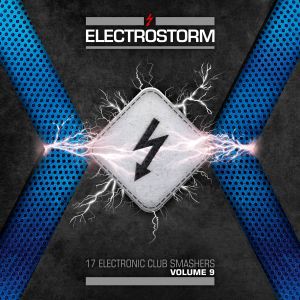 Setlist
1. Solar Fake "I Despise You"
2. Too Dead To Die "Tropical Gothic"
3. Blutengel "Wir Sind Unsterblich"
4. Ashbury Heights "Wild Eyes (feat. Madil Hardis)"
5. Solitary Experiments "The Struggle (Midnight Resistance Remix)"
6. Blutengel+Hocico "Obscured (Club Version by Hocico)"
7. Suicide Commando "Bunkerb!tch"
8. Amduscia "Just Feel And Enjoy"
9. Dive "Death Machine"
10. Kiberspassk "Derevna"
11. Yellow Lazarus "Vicious Memories"
12. Massive Ego "Digital Heroin"
13. She Hates Emotions "Don't Leave Me"
14. Rummelsnuff "Interkosmos"
15. Hocico "Cross The Line (Remixed by Zardonic)"
16. Combichrist "Last Days Under The Sun (Fear Of Domination Remix)"
17. Ost+Front "Sex, Schnaps und Gewalt (Dickpik Remix by Yellow Lazarus)"
https://outofline.lnk.to/ElectrostormVol9