DRAGONLAND – The Power of the Nightstar
Label : AFM Records
Release Date : 14.10.2022
Genre : Power/Symphonic Metal
Rezension by Fenria Streetteam Berlin
Das verdammt guter Powermetal aus dem hohen Norden funktioniert weiß man bereits seit Jahrzehnten. Selbiges gilt auch für Symphonische Metalklänge. Nun, bereits im Jahr 1999 gründete sich genau hier im hohen Norden, um es genau zu sagen in Göteborg, die Formation Dragonland und konnte gleich mit dem Debüt, The Battle oft he Ivory Plains, welches mit dem Nachfolger Holy War, Veröffentlicht 2001/2002, die zusammen auf einer selbst erdachten Fantasy-Saga von Dragonland stammten überzeugen. Es folgte eine Tour durch Japan.
2004 folgte mit Starfall Album Nummer 3. Zwei Jahre später dann Astronomy. Mit dem 2011, nach einer kürzeren Pause erscheinenden Album, Under the Grey Banner, welches die ersten sehr starken symphonischen Einflüsse mit sich brachte, die fortan das Schaffenswerk der sechs Schweden prägen sollte und sehr auffällige Anleihen bei Filmmusik im Stil eines Hans Zimmer aufwies setzte die Band vorerst einen Schlusspunkt. Erst heute, 2022 und somit genau elf Jahre später erscheint das neuste Werk. Auch dieses, wie sein Vorgänger erneut unter dem Banner des AFM Records Label.
Es hat sich viel getan. Man ist reifer und in vieler Hinsicht noch perfekter geworden. So präsentiert sich das neue Werk, The Power oft he Nightstar zum einen als eine phantastisch erzählte Geschichte mit verdammt purem Powermetal gepaart mit urtypischem Symphonic Metal der mächtig viel Spaß beim hören macht. So entführt das Album in seiner Geschichte den Hörer in eine ferne Galaxy in der ein Volk auf der Suche nach einem neuen Zuhause gegen allerlei Feinde zur wehr setzen muss. Ihr meint die Geschichte schon einmal gehört zu habe? Mag sein, aber ganz sicherlich noch nie so eindrucksvoll musikalisch dar geboten. Wir wünschen auf alle Fälle viel Spaß beim hören eines Albums, welches ganz klar beweist, das eine Band, solange sie nur zu ihren Fans hält, uns selbige weiter an ihre Helden glauben auch ruhig einmal mehrere Jahre pausieren kann, um dann umso gestärkter mit dem besten Material zurück zukehren.
The damn good power metal from the far north works for decades. The same applies to symphonic metal sounds. Well, back in 1999, right here in the far north, to be precise in Gothenburg, the formation Dragonland was founded and was able to start right away with their debut, The Battle of the Ivory Plains, which was followed by the successor Holy War, published in 2001/2002 , which together came from Dragonland on a fantasy saga of their own making. A tour of Japan followed. 2004 followed with Starfall album number 3. Two years later Astronomy. With the album Under the Gray Banner, which was released in 2011 after a short break, which brought the first very strong symphonic influences with it, which from then on should shape the creative work of the six Swedes and showed very noticeable borrowings from film music in the style of Hans Zimmer Band for the time being a final point. Only today, 2022 and therefore exactly eleven years later, does the latest work appear. Also this, like its predecessor, again under the banner of the AFM Records label. Much has been done. You have matured and become even more perfect in many ways. So the new work, The Power of the Nightstar, presents itself as a fantastically told story with damn pure Power Metal paired with archetypal Symphonic Metal that is a lot of fun to listen to. In its story, the album takes the listener to a distant galaxy in which a people in search of a new home have to defend themselves against all kinds of enemies. Do you think you've heard the story before? It may be, but it has certainly never been so impressively musically presented. In any case, we wish you a lot of fun listening to an album, which clearly proves that a band, as long as they stick by their fans, and they continue to believe in their heroes, can also take a break for several years and then be all the stronger with the best material to return.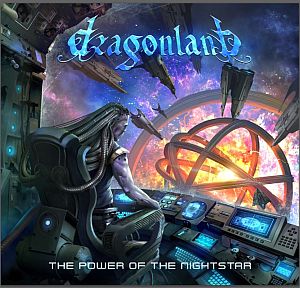 Tracklisting
CD oder DVD: (01:06:25)
01 - The Awakening | 02 - A Light in the Dark | 03 - Flight from Destruction | 04 - Through Galaxies Endless | 05 - The
Scattering of Darkness | 06 - A Threat from Beyond the Shadows | 07 - Aphelion | 08 - Celestial Squadron | 09 - Resurrecting
an Ancient Technology | 10 - The Power of the Nightstar | 11 - Final Hour | 12 - Journey's End | 13 - Oblivion |
Vinyl: (01:06:25)
A01 - The Awakening | A02 - A Light in the Dark | A03 - Flight from Destruction | B04 - Through Galaxies Endless | B05 - The
Scattering of Darkness | B06 - A Threat from Beyond the Shadows | C07 - Aphelion | C08 - Celestial Squadron | C09 -
Resurrecting an Ancient Technology | C10 - The Power of the Nightstar | D11 - Final Hour | D12 - Journey's End | D13 -
Oblivion |
Künstler Line-Up
Elias Holmlid (Keyboards), Anders Hammer (Bass), Jonas Heidgert (Vocals), Olof Mörck (Guitars), Jesse Lindskog (Guitars),
Johan Nunez (Drums)