LORDI – Lordiversity
Label : AFM Records
Release Date : 26.11.2021
Genre : Hard Rock / Heavy Metal / Glam Rock/ Psychodelic Rock / Thrash Metal /Industrial Metal/ Disco / Electro
Rezension by Fenria Streetteam Berlin
Das Mr. Lordi etwas wirklich ausgefallenes ist und man bei Ihm und seiner Band Lordi immer mit Überraschungen rechnen muss weiß man nicht erst seit bekannt werden, das der Kopf hinter dem ganzen Monstekram alles, aber wirklich alles, angefangen bei den ausgefallenen Kostümen, über die Musik, Shows und Filme bis hin zur Produktion selbst betreibt. Nein dieser Mann strotzt nur so vor Ideenreichtum und seiner Kreativität scheint keine Grenzen zu besitzen. So war es dann auch nicht verwunderlich als mit Killection ein fiktives Album veröffentlichte, was den Anschein erweckte es hätte die Band bereits in den frühen Siebziger Jahren gegeben. Wenn dem nämlich so gewesen wäre, dann hätte selbige wohl genau so geklungen wie sie eben auf Killection klingen. Mit der Absage jeglicher Touren, eines kleinen Virus Namens Covid 19 geschuldet, kam Mr. Lordi auf die Idee, die er wie folgt beschreibt…
Mr. Lordi erklärt: "In der Woche im März 2020, nachdem unsere Tour Corona bedingt abgebrochen werden musste, hatte ich mir gedacht, ich müsste diese zusätzliche Zeit, die mir zur Verfügung steht, nutzen. Es war schnell klar, dass der Zeitpunkt perfekt ist, um die Planungen für ein weiteres Album zu beginnen, obwohl "Killection" zu dem Zeitpunkt nicht mal drei Monate alt war. Dann stellte ich allerdings fest, dass es nichts Langweiligeres gäbe, als ein reguläres LORDI-Album zu machen. Ich hatte an dem Schreiben, Aufnehmen und Produzieren der verschiedenen Stilrichtungen für "Killection" großen Gefallen gefunden, doch kam mir die Idee, einfach einen zweiten Teil davon zu komponieren, ebenfalls äußerst öde vor. Da aber "Killection" ein fiktionales Album war, das auf einem bisher nicht existierenden fiktionalen Backkatalog von Musik basierte, kam mir die Idee: Das einzige, was "Killection" toppen könnte, wäre es, den Backkatalog aufzunehmen und zu veröffentlichen."
So kommt es denn nun, dass uns heute im Jahre 2021 ein Box Set, bestehend aus 7 einzelnen Alben vorliegt, welches die Uhr zum einen gewaltig zurück dreht und zum anderen dem Hörer vermittelt, wie Lordi in Zeiten von 1975 – 1995 geklungen hätten.
So entstanden Alben wie Skelectric Dinosaur im Stil des Hard und Glam Rock von 1975 nach Vorbild von Bands wie Alice Cooper oder Kiss.
Superflytrap im Stil der Disco Welle 1979 nach dem Vorbild von Bands wie Eath, Wind & Fire, Boney M oder gar den Bee Gees.
The Masterbeast from the Moon, entführt den Hörer dann in das Jahr 1981 und somit in die schöne psychodelische Rockwelt von Pink Floyd oder Rush.
Oder in das Jahr 1984 mit dem Album Absuement Park und somit zurück in die Zeit des guten alten Classic Heavy Metal der wilden 80'er ganz nach Art von W.A.S.P., Twisted Sister, Scorpions oder wiederum Kiss.
Bei einer solchen Zeitreise, darf natürlich das Jahr 1989 nicht fehlen. Humanimal entführt den Hörer zurück in das große Jahr des Hair und Glam Rocks und dem Stil der Bands von Mastermind Producer Desmond Child, zu denen unter anderem Bon Jovi gehörten.
Zu guter Letzt lässt es sich ein Mr. Lordi dann aber auch nicht nehmen noch einmal richtig Vollgas zu geben und so entstand das wohl härteste Album der Box mit Namen Abracadaver. Hier huldigt der Meister und seine Gefährten dem Stil des wahren Thrash Metals ganz im Stil von Metallica, Anthrax. Pantera und Co. Das Album ist im Jahr 1991 angesiedelt und ist schon ein echter Brecher.
Doch Lordi wäre nicht Lordi, wenn er hier seine Reise beenden würde. Keineswegs. Mit Spooky Sextravaganza liegt der Box das siebte und letzte Album in Form eines von Electronic geschwängerten Soundgewandes bei, welches die Box und die damit verbundene Zeitreise im Jahr 1995 abrundet und beendet.
Alles in Allem, kann man hier sagen, dass Lordi mit dieser Box ein kleines Meisterwerk erschaffen und vorgelegt haben. Hier kommt ein Jeder, immer vorausgesetzt man lässt sich darauf ein, auf seine Kosten.
Natürlich kommt der urtypische Witz und schwarze Humor eines Lordis auch hier nicht zu kurz und so darf der Hörer sich bei jedem Album auf eine kleine makabre Geschichte dahinter freuen. Und da gerade das Weihnachtsfest ins Haus steht, befindet sich mit dem Song Merry, bla, bla, bla auch gleich noch ein kleiner "Weihnachtshit" aller Lordi im Packet. Wo dieser versteckt ist? Nun das erfährt man beim Hören dieses außergewöhnlichen Boxsets.
Und nun viel Spaß und Ho,Ho,Ho….
That Mr. Lordi is something really unusual and that you always have to expect surprises with him and his band Lordi, you have not only known since it became known that the head behind all the monster stuff is everything, but really everything, starting with the unusual costumes, about them Operates music, shows and films through to production himself. No, this man is bursting with inventiveness and his creativity seems to have no limits. So it was not surprising when Killection released a fictional album, which gave the impression that the band had already existed in the early seventies. If that had been the case, then it would have sounded exactly as it sounded on Killection. With the cancellation of all tours, due to a small virus called Covid 19, Mr. Lordi came up with the idea, which he describes as follows ... Mr. Lordi explains: "In the week of March 2020 after our Corona tour had to be canceled, I thought I would have to use this additional time that is available to me. It quickly became clear that the time was perfect to start planning another album, even though "Killection" was not even three months old at the time. Then I realized, however, that there couldn't be anything more boring than doing a regular LORDI album. I had really enjoyed writing, recording and producing the different styles for "Killection", but the idea of simply composing a second part of it also struck me as extremely boring. But since "Killection" was a fictional album based on a previously non-existent fictional back catalog of music, I had the idea: The only thing that "Killection" could top would be to record and publish the back catalog. " So it now happens that today in 2021 we have a box set consisting of 7 individual albums, which on the one hand turns the clock back tremendously and on the other hand tells the listener how Lordi would have sounded in the times from 1975 to 1995. This is how albums like Skelectric Dinosaur were created in the style of hard and glam rock from 1975 based on the models of bands like Alice Cooper or Kiss. Superflytrap in the style of the disco wave 1979 modeled on bands like Eath, Wind & Fire, Boney M or even the Bee Gees. The Masterbeast from the Moon takes the listener back to 1981 and thus into the beautiful psychedelic rock world of Pink Floyd or Rush. Or to the year 1984 with the album Absuement Park and thus back to the time of the good old classic heavy metal of the wild 80's, just like W.A.S.P., Twisted Sister, Scorpions or again Kiss. On such a journey through time, the year 1989 should of course not be missing. Humanimal takes the listener back to the great year of hair and glam rock and the style of mastermind producer Desmond Child's bands, including Bon Jovi. Last but not least, a Mr. Lordi can't be refused to give full throttle again and that's how the hardest album in the box called Abracadaver came about. Here the master and his companions pay homage to the style of true thrash metal in the style of Metallica, Anthrax. Pantera and Co. The album is set in 1991 and is already a real breaker. But Lordi wouldn't be Lordi if he ended his journey here. Not at all. With Spooky Sextravaganza, the box comes with the seventh and final album in the form of a sound garment impregnated with electronics, which rounds off and ends the box and the associated journey through time in 1995. All in all, one can say here that Lordi created and presented a small masterpiece with this box. Everyone comes here, always provided you get involved, at your own expense. Of course, the typical joke and black humor of a Lordis is not neglected here either and so the listener can look forward to a little macabre story behind every album. And since Christmas is just around the corner, the song Merry, blah, blah, blah is also a small "Christmas hit" from all Lordi in the package. Where is this hidden? Well, that's what you'll find out when listening to this extraordinary boxing set. And now have fun and Ho, Ho, Ho….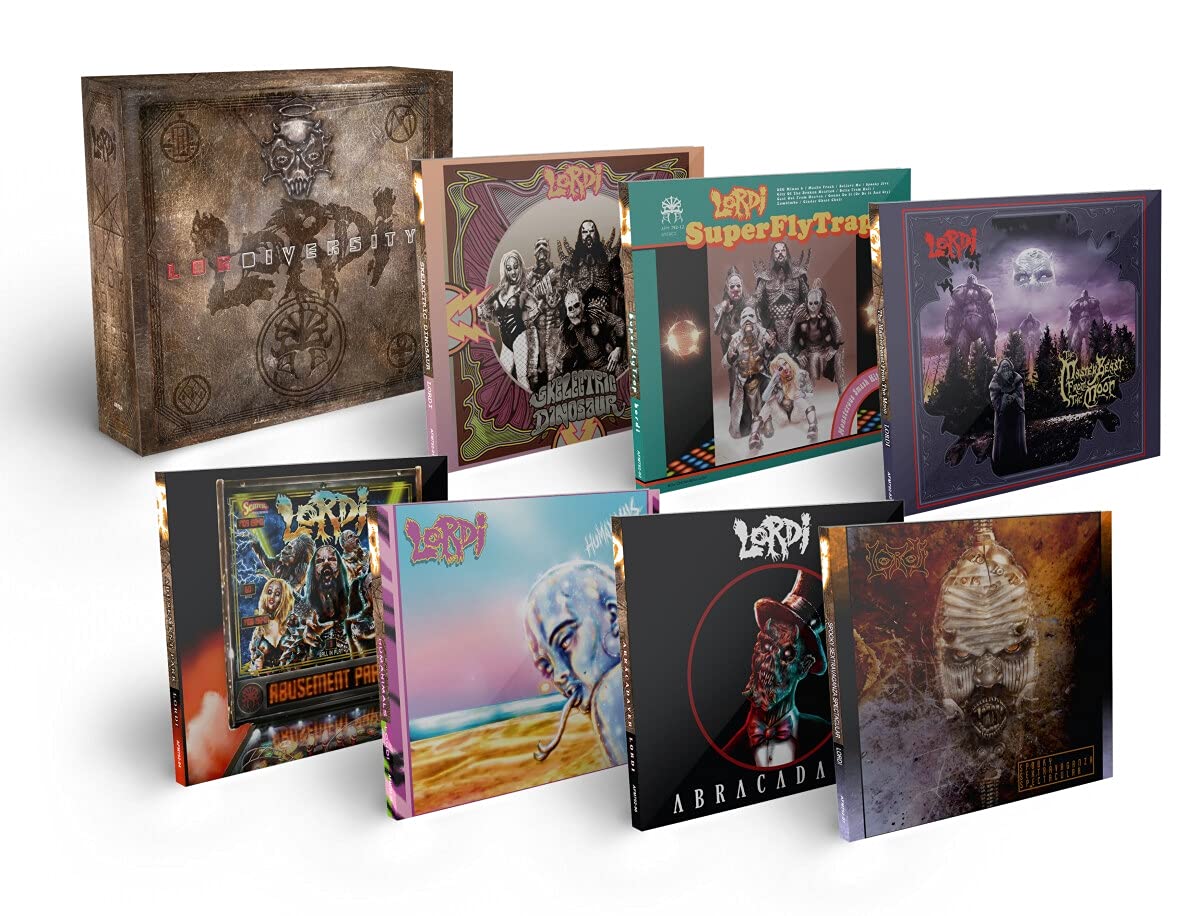 Tracklist
Skelectric Dinosaur
SCG Minus 7: The Arrival 1:09
Day Off Of The Devil 3:33
Starsign Spitfire 3:03
Maximum-O-Lovin' 2:23
The King On The Head Staker's Mountain 5:21
Carnivore 3:30
Phantom Lady 3:16
The Tragedy Of Annie Mae 3:45
Blow My Fuse 3:35
...And Beyond The Isle Was Mary 2:15
SuperFlyTrap
SCG Minus 6: Delightful Pop-Ins 1:08
Macho Freak 3:42
Believe Me 4:27
Spooky Jive 3:55
City Of The Broken Hearted 4:02
Bella From Hell 3:26
Cast Out From Heaven 3:51
Gonna Do It (Or Do It And Cry) 2:51
Zombimbo 4:52
Cinder Ghost Choir 6:06
The MasterBeast From The Moon
SCG Minus 5: Transmission Request 1:35
Moonbeast 6:29
Celestial Serpents 6:07
Hurricane Of The Slain 3:00
Spear Of The Romans 5:46
Bells Of The Netherworld 3:01
Transmission Reply 0:20
Church Of Succubus 11:58
Soliloquy 1:51
Robots Alive! 4:09
Yoh-Haee-Von 1:17
Transmission On Repeat 1:04
Abusement Park
SCG Minus 4: The Carnival Barker 0:54
Abusement Park 3:33
Grrr! 3:48
Ghost Train 3:18
Carousel 4:24
House Of Mirrors 3:51
Pinball Machine 3:34
Nasty, Wild & Naughty 3:10
Rollercoaster 4:45
Up To No Good 4:02
Merry Blah Blah Blah 4:05
Humanimals
SCG Minus 3: Scarctic Circle Telethon 1:20
Borderline 4:12
Victims Of The Romance 3:47
Heart Of A Lion 4:33
The Bullet Bites Back 4:07
Be My Maniac 3:40
Rucking Up The Party 4:07
Girl In A Suitcase 4:07
Supernatural 3:49
Like A Bee To The Honey 4:15
Humanimal 3:53
Abracadaver
SCG Minus 2: Horricone 1:18
Devilium 3:46
Abracadaver 3:41
Rejected 3:44
Acid Bleeding Eyes 3:28
Raging At Tomorrow 5:01
Beast Of Both Worlds 4:59
I'm Sorry I'm Not Sorry 3:34
Bent Outta Shape 5:05
Evil 4:35
Vulture Of Fire 3:47
Beastwood 0:56