SKID ROW – The Atlantic Years 1989 – 1996
Label : Atlantic Records
Release Date : 03.12.2021
Genre : Hard Rock / Heavy Metal
Rezension by Fenria Streetteam Berlin
Lang, lang ist es her, da gab es eine Band Namens Skid Row. Die Herren kamen aus den USA und spielten in den Jahren 1989 – 1996 verdammt coolen klassischen Hard Rock und Heavy Metal. Allein Ihr Debut, Skid Row, verkaufte sich Millionenfach und sorgte in der Szene für erhebliches Aufsehen. Noch vor der VÖ des genannten Albums standen Skid Row bereits als Opener von Bon Jovi auf den Brettern die die Welt bedeuten. 1989 bestritt die Band neben Größen wie Ozzy Osbourne, Bon Jovi, Mötley Crüe und Cinderella das Moscow Peace Festival. Es folgten Auftritte zusammen mit Guns'n Roses, Scorpions oder Iron Maiden. Man bestritt einen Auftritt auf dem legendären Monsters of Rock Festival und spielte hier unter anderem neben Slayer, Thunder oder W.A.S.P. Nach dem Album Skid Row folgten mit Slave to the Grind 1991, B -Side Ourselevs 1992 und Subhuman Race 1995 drei weitere erfolgreiche Alben bevor man sich kurz nach dem Erscheinen des Greatest Hits Albums trennte.
2003 kehrt die Band mit neuer Besetzung zurück und ist bis heute aktiv.
Heute im Jahr 2021 veröffentlicht nun das ehemalige Label der Band, Atlantic Records die Fünf CDs enthaltene Box Edition, The Atlantic Years, die die vier Alben von 1989 – 1996 plus einer 5 CD mit ausgewählten Live Stücken aus der genannten Zeit beinhaltet. Ein reichlich bebildertes Booklet zur Geschichte der Band wertet diese Box noch weiter auf. Die Box erscheint als 5 CD oder 5 Vinyl LP Version und ist nicht nur für alteingesessene Fans ein echtes Highlight. Welcome back to the 80's/90's …. Heavy up!!!
It's been a long, long time since there was a band called Skid Row. The gentlemen came from the USA and played damn cool classic hard rock and heavy metal from 1989-1996. Your debut, Skid Row, sold millions of copies and caused quite a stir in the scene. Even before the release of the aforementioned album, Skid Row were already on the boards that mean the world as Bon Jovi's opener. In 1989 the band played alongside greats like Ozzy Osbourne, Bon Jovi, Mötley Crüe and Cinderella at the Moscow Peace Festival. Appearances with Guns'n Roses, Scorpions and Iron Maiden followed. They made an appearance at the legendary Monsters of Rock Festival and played alongside Slayer, Thunder and W.A.S.P. After the album Skid Row followed three more successful albums with Slave to the Grind 1991, B-Side Ourselevs 1992 and Subhuman Race 1995 before they split shortly after the release of the Greatest Hits album. In 2003 the band returned with a new line-up and is still active today. Today in 2021, the band's former label, Atlantic Records, is releasing the box edition of five CDs, The Atlantic Years, which contains the four albums from 1989 - 1996 plus one 5 CD with selected live pieces from the period mentioned. A richly illustrated booklet on the history of the band enhances this box even further. The box appears as a 5 CD or 5 vinyl LP version and is not only a real highlight for long-established fans. Welcome back to the 80's / 90's…. Heavy up !!!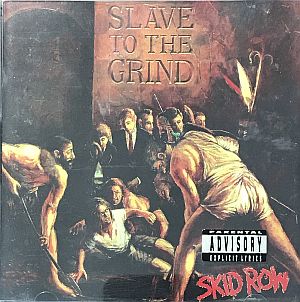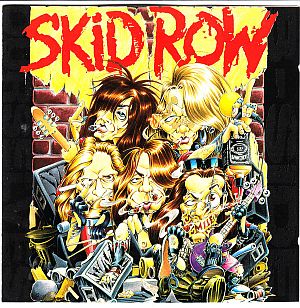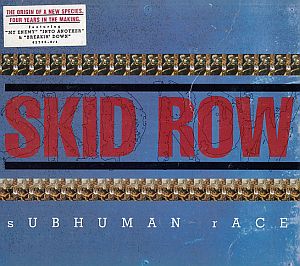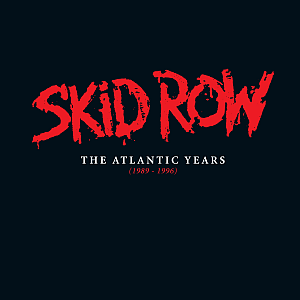 Trackliste
CD 1 – Skid Row
Big Guns
Sweet Little Sister
Can't Stand The Heartache
Piece Of Me
18 And Life
Rattlesnake Shake
Youth Gone Wild
Here I Am
Makin' A Mess
I Remember You
Midnight / Tornado
CD 2 – Slave to the Grind
Monkey Business
Slave To The Grind
The Threat
Quicksand Jesus
Psycho Love
Get The Fuck Out
Livin' On A Chain Gang
Creepshow
In A Darkened Room
Riot Act
Mudkicker
Wasted Time
CD 3 – B – Side Ourselves
Psycho Therapy
C'Mon And Love Me
Delivering The Goods
What You're Doing
Little Wing
CD 4 – Subhuman Race
My Enemy
Firesign
Bonehead
Beat Yourself Blind
Eileen
Remains To Be Seen
Subhuman Race
Frozen
Into Another
Face Against My Soul
Medicine Jar
Breakin' Down
Iron Will
CD 5 – Subhuman Beings on Tour
Slave to the Grind
Delivering the Goods
Psycho Therapy
Riot Act
Monkey Buissenes
Thanks