CARL SENTANCE – Electric Eye
Verfasst: Sa 13. Nov 2021, 15:08
CARL SENTANCE – Electric Eye
Label : Drakkar Entertainment
Release Date : 19.11.2021
Genre : Hard Rock / Heavy Metal
Rezension by Fenria Streetteam Berlin
Carl Sentance, ein Mann wie ein geschichtliches Musikbuch. Seine Karriere begann 1977 mit Gründung seiner ersten Band, Leading Star. !981 übernimmt er die Position des Sängers und Gitarrist der Formation Persian Risk und ersetzt mal eben den ausgeschiedenen John Deverill (Tygers of Pan Tang). Mit Persian Risk tourt Carl unter anderem im Vorprogramm von Motörhead, bevor er sich zwischen 1986 und 1988 Geezer Butler's (Black Sabbath) Solo Projekt anschließt. Es folgten Gastspiele bei Bands wie Monroe, Tok-io Rose, oder Ghost (zusammen mit Ex UFO und Wasted Gitarrist, Paul Chapman), bevor er in Musicals wie Jesus Christ Superstar als Judas oder als The American in Chess sein Können unter Beweis stellt. Von 1999 bis 2002 ersetzt er den zu dieser Zeit ausgeschiedenen Marc Storace bei der Schweizer Metal Band Krokus und nimmt mit selbiger das Album Round 13 auf. Seit 2006 arbeitet Carl in Co Produktion mit Don Airey (Deep Purple) zusammen in dessen Solo Projekt, Don Airey and Frinds.
2009 folgt das erste Solo Album mit Namen, Mind Doctor, und versucht seine alte Formation Persian Risk in Ur-Besetzung zu reformieren, was daran scheitert das alle ehemaligen Mitglieder in anderen Projekten eingebunden sind. So formiert er die Band komplett neu und veröffentlicht die zwei erfolgreichen Alben, Once a King 2012 und Who am I 2014.
Nachdem Don MacCafferty, krankheitsbedingt seinen Job als Frontmann bei Nazareth aufgeben muss übernimmt Carl 2015 dessen Position.
In jüngster Zeit hat Carl Nazareths aktuelles Studioalbum "TATTOOED ON MY BRAIN" aufgenommen (zu den Songs gehören "NEVER DANCE WITH THE DEVIL", "CHANGE", "STATE OF EMERGENCY", "SILENT SYMPHONY" und "DON'T THROW YOUR LOVE AWAY"). Carl tourt derzeit durch die ganze Welt…
Und Heute im Jahr 2021 veröffentlicht selbiger Herr nun sein nächstes Solo Scheibchen mit Namen, Electric Eye und beweist hier auch gleich sein ganzes Können. So entstand eine herrliche Rock Scheibe die das Herz der Classic Rocker höher schlagen lässt. Coole und eingängige Riffs die sofort ins Ohr gehen. Eine unverwechselbare Stimme und die genügende Menge an Energie machen das Album zu einem abwechslungsreichen Hörgenuss. Ich für meinen Teil kann dieses Album nur empfehlen und wünsche allen Hörern viel Vergnügen.
Carl Sentance, a man like a historical music book. His career began in 1977 with the formation of his first band, Leading Star. ! In 981 he took over the position of singer and guitarist of the formation Persian Risk and replaced the retired John Deverill (Tygers of Pan Tang). Carl tours with Persian Risk, among other things, as a support act for Motörhead before joining Geezer Butler's (Black Sabbath) solo project between 1986 and 1988. This was followed by guest appearances with bands such as Monroe, Tok-io Rose, or Ghost (together with ex UFO and Wasted guitarist, Paul Chapman), before he proves his skills in musicals such as Jesus Christ Superstar as Judas or as The American in Chess. From 1999 to 2002 he replaced Marc Storace, who had left at the time, with the Swiss metal band Krokus and recorded the album Round 13 with the same. Since 2006 Carl has been working in co-production with Don Airey (Deep Purple) in his solo project, Don Airey and Frinds. In 2009 the first solo album by name, Mind Doctor, followed and tried to reform his old formation Persian Risk in the original line-up, which failed because all former members were involved in other projects. So he completely reformed the band and released the two successful albums, Once a King 2012 and Who am I 2014. After Don MacCafferty had to give up his job as a front man at Nazareth due to illness, Carl took over his position in 2015. Recently, Carl Nazareth recorded their latest studio album "TATTOOED ON MY BRAIN" (songs include "NEVER DANCE WITH THE DEVIL", "CHANGE", "STATE OF EMERGENCY", "SILENT SYMPHONY" and "DON'T THROW YOUR LOVE" AWAY "). Carl is currently touring all over the world ... And today in the year 2021 the same gentleman is now releasing his next solo disc with the name, Electric Eye and proving all his skills here. The result was a wonderful rock record that makes the heart of the classic rocker beat faster. Cool and catchy riffs that go straight to the ear. An unmistakable voice and the sufficient amount of energy make the album a varied listening pleasure. For my part, I can only recommend this album and I wish all listeners a lot of enjoyment.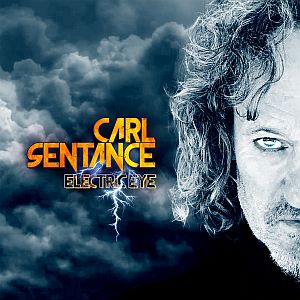 Setlist
Alright
Battlecry
California Queen
Electric Eye
Exile
If this is Heaven
Judas
Nerverous Breakdown
Overloud
Youn Beggars