LEAVE'S EYES – The Last Viking Midsummer Edition
Label : AFM Records
Release Date : 17.09.2021
Genre : Symphonic Metal
Rezension by Andy Dax vom Streetteam Berlin
Mit dem bereits 2020 erschienenem Album "The Last Viking" machen Leave's Eyes nun einen absoluten Rundumschlag und veröffentlichen das Album erneut als eine 3-CD Version + DVD/Blu-ray.
Dieses Paket darf bei keinen Symphonic Metal Fan in der Sammlung fehlen.
Das Album handelt von Norwegens König Harald III "Der Harte – Hardråde" wehrend des englischen Schicksalsjahr 1066 und dem verlorenen Kampf um die englische Krone.
Leave's Eyes liefern ein bombastisches Meisterwerk, gefüllt mit eingängigen Melodien, glasklarer Gesang der finnischen Sopranistin Elina Siirala (seit 2016 Frontfrau von Leave's Eyes), gutturaler Gesang von Alexander Krull (Leave's Eyes, Atrocity), orchestrale Passagen bis hin zu Chorgesängen. Hier wird das absolute Können und die Professionalität der Band voll bewiesen.
Von Beginn des ersten Tracks "Death of a King", eine mystische Einführung in das Album, ist man gefesselt und kann sich sprichwörtlich in das Schlachtfeld hineinversetzen.
"Chain of The Golden Horn" gibt dann richtig Gas und schreit förmlich "Attacke".
Gefolgt von der Gänsehautnummer "Dark Love Empress" mit einem eingängigen Klavierintro, langen Powerchorus und grandiosen Melodien. Spätestens hier ist man völlig an dieses Album gefesselt.
"Serpents and Dragons", ein musikalisches Feuerwerk in dem Alexander Krull seine erste "Explosion" einbringt. Seine Gutturalen Gesänge und die liebliche Stimme von Elina Siirala gehen in dieser Powernummer Hand in Hand. Headbanging ist in dieser Nummer obligatorisch!
Bei "Black Butterfly" haben sich Leave's Eyes Clementine Delauney (Visions of Atlantis) mit ins Boot geholt. Ein sehr fesselnder Song mit stampfenden Gitarren, kraftvollen Rhythmen und natürlich einen kraftvollen Alexander Krull. Auch in dieser Nummer kommt die Gänsepelle beim Hörer zu vollem Vorschein.
"War of Kings" sowie "For Victory" zwei Nummern, in denen man richtig aufs Gaspedal drückt. Episch, brutal, mitreißend und einfach nur Ohrwurm Potential.
Bei "Two Kings one Realm" dürfen sich die Nackenmuskeln für 2 Minuten und 40 Sekunden etwas entspannen. Bei dieser Folklore Nummer fühlt man sich gleich in die Zeit der Wikinger versetzt und möchte ein Teil davon sein. Jedem Fan von Wikingern wird hier das Herz erblühen.
"Flames in the Sky" hier ist das Pause der Nackenmuskulatur zu Ende. "Raise the Horns for the Flames in the Sky". Ein tolle Metalnummer mit guter Thematik, Rhythmik und natürlichen einem kraftvollen Gesang zwischen Elina und Alexander.
Angriff, Attacke und Vollgas auf "Serkland". Diese Nummer macht Spaß und hat alles was man von einer Symphonischen Metalband erwartet. Man fühlt sich als wäre man auf einem Drachenboot dabei.
Bei dem sehr unerwarteten Song "Varangians" kommt absolute Partylaune auf. Die Wikinger feiern ihre Siege und man möchte nur mit jemanden die Arme einhaken und sich im Kreise drehen.
"Night of the Ravens" hier donnern die Trommeln des Krieges unterstützt von Axten (Gitarren) und Sirenengesang. Ein schöner Song, emotional und gefühlvoll.
Wenn man denkt, das Album könne nicht noch mehr auf die Pauke hauen, kommt die 10-minütige musikalische Kurzgeschichte daher und gibt nochmal richtig einen auf die Fresse. Alexander und Elina zeigen hier nochmals was in ihnen steckt und haben sich mit diesem Song ganz nach oben eingereiht.
Nach beendeter Schlacht kommen wir zu "Break into the Sky of Aeon" dem letzten Track auf einer sehr gelungenen Scheibe. Der Song, sehr düster und melancholisch, jedoch Kraftvoll, überzeugt ein letztes Mal und das nicht zu schlecht.
Fazit: Mit ihrem 8. Album haben Leave's Eyes ein absolutes Meisterwerk hingelegt, dass sie in der Welt des symphonischen Metals ganz weit oben halten wird. Eine Platte, die Spaß macht zu hören und einen motiviert, sich mit Wikingern zu befassen und deren Story zu erforschen.
Mit der "Midsummer Edition" bringen sie ein Gesamtpaket, welches selbst in Asgaard in jedem CD Regal gestanden hätte. Neben dem Album gibt es eine weitere CD auf der sich das komplette Album nochmals gesangslos befindet. Diese Instrumental CD ist ein besonderes Schmankerl für die Musiker und Produzenten da draußen, die sich gerne von der Professionalität dieser Scheibe überzeugen wollen.
Wenn das nicht genug ist, kommt das Paket noch mit einer DVD/Blu-ray, die die Dokumentation "Viking Spirit" beinhaltet. 95Min Wikinger und alles was Sänger Alexander Krull an diesen behaarten Kriegern lebt und liebt. Auch enthalten, 4 offizielle Musikvideos.
Es geht aber noch weiter, eine weitere CD, der komplette Soundtrack von "Viking Spirit" ist auch noch in dem Paket enthalten.
Hier dürften absolut keine Wünsche mehr offen bleiben. Ein grandioser Kracher mit vielen Extras, der in keinem CD Regal fehlen darf. Freunde von Symphonic Metal kommen hier bestens auf ihre Kosten.
With the album "The Last Viking", which was released in 2020, Leave's Eyes are now doing an absolute all-round blow and are releasing the album again as a 3-CD version + DVD / Blu-ray. This package should not be missing in the collection of any Symphonic Metal fan. The album is about Norway's King Harald III "Der Harte - Hardråde" during the fateful English year of 1066 and the lost battle for the English crown. Leave's Eyes deliver a bombastic masterpiece, filled with catchy melodies, crystal clear vocals by the Finnish soprano Elina Siirala (Leaves Eyes frontwoman since 2016), guttural vocals by Alexander Krull (Leave's Eyes, Atrocity), orchestral passages through to choral singing. Here the absolute ability and professionalism of the band is fully demonstrated. From the beginning of the first track "Death of a King", a mystical introduction to the album, you are captivated and can literally put yourself in the shoes of the battlefield. "Chain of The Golden Horn" really accelerates and literally screams "attack". Followed by the goosebumps number "Dark Love Empress" with a catchy piano intro, long power chorus and terrific melodies. At least here you are completely tied to this album. "Serpents and Dragons", a musical firework in which Alexander Krull brings his first "explosion". His guttural chants and the lovely voice of Elina Siirala go hand in hand in this power number. Headbanging is mandatory in this number! For "Black Butterfly", Leave's Eyes brought Clementine Delauney (Visions of Atlantis) on board. A very captivating song with pounding guitars, powerful rhythms and of course a powerful Alexander Krull. In this number, too, the Gänsepelle comes fully to the fore with the listener. "War of Kings" and "For Victory" are two numbers in which you really hit the gas pedal. Epic, brutal, rousing and just catchy tune potential. With "Two Kings one Realm" the neck muscles are allowed to relax a little for 2 minutes and 40 seconds. With this folklore number you feel immediately transported to the time of the Vikings and want to be a part of it. The heart of every fan of Vikings will blossom here. "Flames in the Sky" here is the end of the break in the neck muscles. "Raise the Horns for the Flames in the Sky". A great metal number with good themes, rhythms and natural powerful vocals between Elina and Alexander. Attack, attack and full throttle on "Serkland". This number is fun and has everything you would expect from a symphonic metal band. You feel like you're on a dragon boat. The very unexpected song "Varangians" creates an absolute party mood. The Vikings celebrate their victories and you just want to hook your arms with someone and go around in circles. "Night of the Ravens" here the drums of war thunder supported by axes (guitars) and siren singing. A nice song, emotional and soulful. If you think the album couldn't beat any more, the 10-minute musical short story comes along and really pisses you off again. Alexander and Elina show again what they are made of and with this song they ranked right at the top. After the battle is over we come to "Break into the Sky of Aeon" the last track on a very well done disc. The song, very dark and melancholy, but powerful, convinces one last time and not too badly. Conclusion: With their 8th album, Leave's Eyes have produced an absolute masterpiece that will keep them high in the world of symphonic metal. A record that is fun to listen to and motivates you to deal with Vikings and explore their story. With the "Midsummer Edition" they bring a complete package that would have been on every CD shelf even in Asgaard. In addition to the album, there is another CD on which the complete album is again without a song. This instrumental CD is a special treat for the musicians and producers out there who would like to convince themselves of the professionalism of this disc. If that's not enough, the package also comes with a DVD / Blu-ray containing the documentation "Viking Spirit". 95Min Vikings and everything that singer Alexander Krull lives and loves about these hairy warriors. Also includes 4 official music videos. But there is more, another CD, the complete soundtrack of "Viking Spirit" is also included in the package. Absolutely nothing to be desired here. A great cracker with many extras that should not be missing on any CD shelf. Friends of symphonic metal get their money's worth here.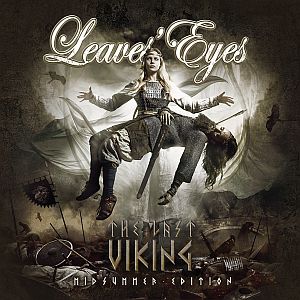 Setlist
CD oder DVD: (02:36:04)
CD1 01 - Death Of A King | CD1 02 - Chain Of The Golden Horn | CD1 03 - Dark Love Empress | CD1 04 - Serpents And
Dragons | CD1 05 - Black Butterfly (feat. Clémentine Delauney)
| CD1 06 - War Of Kings | CD1 07 - For Victory | CD1 08 - Two Kings One Realm | CD1 09 - Flames In The Sky | CD1 10 -
Serkland | CD1 11 - Varangians | CD1 12 - Night Of The Ravens | CD1 13 - The Last Viking | CD1 14 - Break Into The Sky Of
Aeon | CD2 01 - Death Of A King (Instrumental) | CD2 02 - Chain Of The Golden Horn (Instrumental) | CD2 03 - Dark Love
Empress (Instrumental) | CD2 04 - Serpents And Dragons (Instrumental) | CD2 05 - Black Butterfly (Instrumental) | CD2 06 -
War Of Kings (Instrumental) | CD2 07 - For Victory (Instrumental) | CD2 08 - Two Kings One Realm (Instrumental) | CD2 09 -
Flames In The Sky (Instrumental) | CD2 10 - Serkland (Instrumental) | CD2 11 - Varangians (Instrumental) | CD2 12 - Night
Of The Ravens (Instrumental) | CD2 13 - The Last Viking (Instrumental) | CD2 14 - Break Into The Sky Of Aeon (Instrumental)
| CD3 01 - Await Orre's Storm (Soundtrack) | CD3 02 - Galeids Of The Væringjar (Soundtrack) | CD3 03 - Dread Hand's
Fame (Soundtrack) | CD3 04 - Into The Depths Of Hell (Soundtrack) | CD3 05 - Chain Of The Golden Horn (Soundtrack)